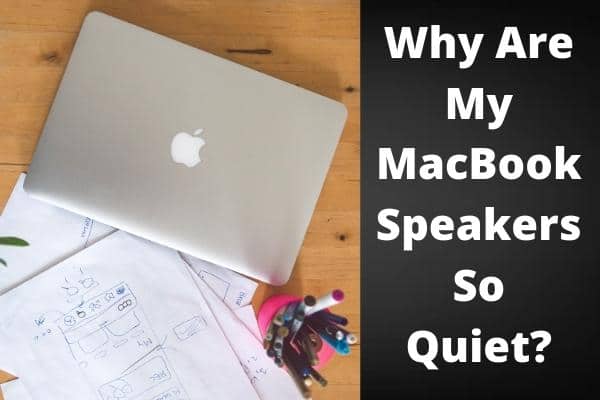 Apple has launched a lot of quality gadgets in the past few years. All of their products have set a significant benchmark in the market. Although Apple products are always a little expensive compared to other brands, they never compromise quality.
Similarly, Apple has provided several MacBooks with some fantastic features. This MacBook works very well and is easy to carry from one place to another. However, as there are many features in MacBook, there are a few drawbacks.
One of the main complaints received from MacBook users is about their speakers. Sometimes, MacBook speakers sound very quiet. But, don't worry about this. There can be many reasons behind MacBook's speaker being so quiet. You can solve this issue by making some minor changes to your MacBook.
This article will explain why your MacBook speakers are so quiet and tell you how to resolve this issue. So, without delaying anytime, let's get into it.
Why are MacBook Speakers So Quiet?
MacBook speakers work perfectly initially, but the speakers sometimes become quiet as the product gets old. Many reasons can be behind this issue. Below, I will discuss some of the possible causes of this problem and their solutions:
First, check the sound:
Before going into any complexity, first, check the sound settings of the MacBook. It can be possible that someone has reduced the sound level from sound settings. You can ensure that by checking the settings. Look for the sound or audio option in the settings.
You can also increase the sound by simply pressing the F12 shortcut key from your MacBook's keyboard. Try to maintain the sound level at 100% for better loud audio.
If increasing the sound level from the settings helps you make your MacBook's speakers loud, you have the solution. But if still, your MacBook's speakers are quiet and not working, then further read the article. You will get the appropriate solution here.
The second step is to check the hardware speakers:
Some people like to attach hardware speakers with their MacBook for better audio or sound. If you feel your MacBook is quiet, try checking the hardware speakers.
Rotate the knob of the speakers to increase their sound.
If still, the sound is low, do check your speakers.
It might be possible your speakers are not working or are damaged. Take them to a good computer expert to repair the speakers. Hopefully, this will work.
If there is no issue with your hardware speakers, then it means there is a problem with your MacBook's speakers.
Clean Built-in Speakers:
Using MacBook for a long time can produce dust in your built-in speakers. This dust can also be a reason for decreasing the sound of your MacBook's speakers. Therefore, it is essential to clean them at least a couple of times within six months.
Maybe after cleaning the speakers, you will feel a bit of change or loudness in your system. Be careful while cleaning them. Don't use challenging material because this can cause damage to your speakers.
Check applications overriding your sound settings:
Sometimes, you download or install an application in your system, and it has its default volume settings. These applications can cause a bit of change in your system's sound level. To resolve this issue, open the applications and check the sound settings.
If you are facing this issue only while using a specific application, then there can be a high chance that this application is causing the problem in your MacBook's speakers. If changing the settings doesn't work, it is better to uninstall that application.
Moreover, sometimes we install an application unconsciously in our system. Go through your applications folder and look for a stranger or suspicious application. Uninstalling that application is the best option to maintain the sound level of your MacBook.
Restart the sound controller:
If all the problems mentioned above don't resolve the issue, try restarting the controller system of sound in your MacBook. Unfortunately, most users don't restart the sound controller, even using the MacBook for years.
It can cause damage to the built-in speakers of your MacBook, and as a result, your MacBook speakers become quiet. These are the steps you can follow to restart the sound controller in your MacBook.
Open the Apple menu and go to the 'Applications' and then 'Utilities.' Then select the option Activity Monitor from it.
Then type the 'Coreaudiod' in the search bar, and then you will see a page that is the core sound driver of your MacBook.
After that, select the option Coreaudiod and click on the cross to close the specific tab. It will restart the audio driver immediately. 
Now you can check the volume of your MacBook.
This restarting of the sound controller will enhance the quality of the sound level in your MacBook.
Run maintenance script:
Your system creates some unnecessary or temporary files to maintain the working of your operating system. And these files contain a lot of storage in your system, which slows the quality of your MacBook.

These files can also affect the sound system and decrease the default sound level of your MacBook's speakers. Mostly, these files are cleared by the system on their own at a specific time.
But in case your system is shut down or asleep at that time, these files will store in your system. That's why you have to clean them after some time to maintain the working of your system. You can search online on how to run maintenance scripts.
Additionally, there are a lot of applications that are available online that help you to clear any extra or unwanted files. You can install these from the Apple store.
However, these maintenance scripts don't damage your system, but it is better to back up all the vital storage in your system.
The above points are the most common issues that cause your MacBook's speakers to be quiet. But if you will still have this issue with your MacBook speakers. Then we have more solutions that are not permanent but still help you listen to the audio.
Buy Extra Speakers:
If the built-in speakers are not working, it is better to invest in hardware speakers instead of upgrading them. These speakers will provide a cinema-like feel while you are enjoying movies. You can even buy three speakers for a better and enhanced sound experience.
Use Headphones:
One more temporary solution is using a headphone with your MacBook. You will get the same quality of sound as the built-in speakers. You can even adjust the sound level according to your preference. Headphones are also a better option if you roam in a public place.
However, you can choose wireless headphones or go for wired headphones. But wireless headphone is better as you can watch movies or videos from a specific distance according to your comfort.
Install applications to boost sound:
Lastly, you can install an application in your system to enhance the quality of your MacBook's built-in speakers. These applications are free to install and help boost the sound level. Following are some typical applications that you can install:
Suppose you are someone who watches movies and DVD videos a lot. Then installing a VLC player is a great option. It is free to use and provides a sound level of up to 200%, which is the best thing about this application.
You can adjust the sound by going into the sound settings of the applications. It is louder than many other applications like iTunes.
By downloading Ears Chrome Extension to YouTube and Netflix, you can enjoy the thunderous sound of the movies, shows, and web series. Although this application is free to install, you can opt for its premium version for enhanced features.
It is one of the oldest applications in the market. It is a fantastic option to watch your favorite videos on your MacBook. However, it comes with a lot more features, including recording a podcast and inserting sound from other devices.
It requires a license that can be expensive for some users, but you can use its trial version to enjoy its features.
Lastly, Boom 3D is one of the top-rated applications among previous ones. However, it is a paid application, and you can't install it for free. But it is a good investment as you can increase the sound of any audio like movies, games, music, etc.
Conclusion:
The MacBook is one of the fantastic gadgets that Apple has launched. But it has one drawback: it gets quiet after some use, which is disturbing. However, with little effort, you can quickly resolve this issue. I would suggest you regularly clean the system to maintain the sound level.
Your MacBook speakers can be quiet due to the unnecessary overriding of applications. But if the issue continues, it is better to buy hardware speakers or headphones. I am pretty sure after reading this article that you can resolve this issue. I hope you found this complete guide helpful in any matter.