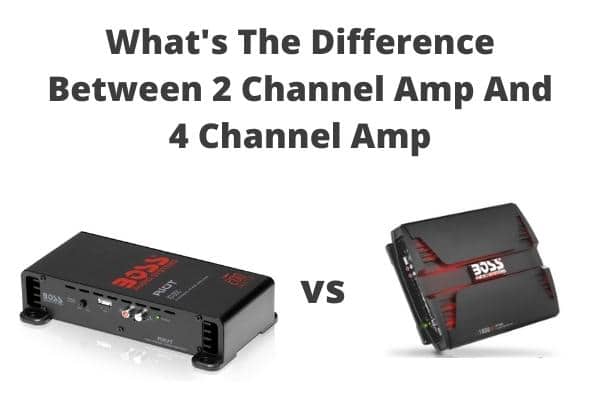 Do you know what is the difference between 2 channel amp and 4 channel amp? If not, then this article is for you!
If you want to improve the quality of your music or sound, you should consider adding an amplifier to your music system. An amplifier is an electromagnetic device that converts the system's low voltage impulses into signals with enough gain to power up your speakers or subwoofers for a better sound.
Whether you prefer soft or loud music, an amplifier will bring out the detail and excitement. It will give your music a much-needed boost. However, to get the most out of an amp, you must first understand how to select the ideal one for your aftermarket speakers and subwoofers.
Difference Between 2 Channel Amp And 4 Channel Amp
If you're trying to decide between a 2-channel amp and a 4-channel amp for your stereo, you need to know about these two amps and how to choose the proper one!
2 channel amp
1. A dual-channel amp will most likely provide you with all the overdrive/distortion you require.
2. It is possible to produce a phantom picture with two speakers — you do not hear sound emanating from one speaker or the other but the space between them.
3. The perceived location of the sound source can be shifted anywhere between the two speakers. It all depends on the blend between the left and right speakers.
4. Not to mention that each channel will have some EQ shaping, allowing you more control over your live sound.
5. The next feature of a 2-channel amp is switching between clean, crunch, and full-blown lead tones with the easy push of a pedal footswitch.
6. It allows you to alter your gain levels as needed in a simple pedalboard provided by the amp.
7. Furthermore, all of your parameters can be placed in a single unit, making it easy to move and control. It also significantly reduces the size of your pedalboard.
4 channel amp
A 4 channel amplifier is essentially the same as a 2 channel amplifier, but with two more audio channels in a smaller package. It's worth noting that some include unique features (such as a bass enhancement option) that are only available on two of the four. This four-channel class A/B amplifier features a lot of transistors on the left side to drive the outputs. That's one of the reasons it's longer than a 2-channel amp on its own.
As you may expect, 4-channel amps are comparable to 2 and 5-channel units. They do, however, have a few differences. They, too, use a single power source to give a higher output voltage, stepped up from 12V, to drive the speakers with more power than factory systems can.
4 channel amplifiers are quite versatile and have several advantages over other types. Many different sound systems can be configured (and easily reconfigured) in your car. As an example:
1. A four-speaker (front/rear) system.
2. Front full-range speakers (2 channels) + bridged subwoofer.
3. Setup of high pass/low pass component speakers, with tweeters on channels 1-2 and woofers on channels 3-4.
4. Front speakers with high-pass crossovers and front woofers with low-pass crossovers.
Which one is better?
The output power of a two-channel amplifier is divided into two channels. It is ideal for powering two speakers at the same time. With this amp, you can have one channel for each speaker. The channels can be joined in some circumstances to boost the output of a single channel. It is typically done to provide power to one or two subwoofers.
A four-channel amplifier, on the other hand, can power four speakers. A 4-channel amp can power the back channels in bridge mode. The two front channels power the front components of the speakers, while the rear channels will be combined into a single strong channel that will power the subwoofers.
A four-channel amplifier will power up to eight speakers. Furthermore, when properly wired, these amps can produce twice the power. If you want to preserve front-to-back fading control and enjoy rear-fill sound in your vehicle, this could be your amp.
Conclusion
The only distinction between a 2-channel and a 4-channel amp is the number of channels connecting to speakers or subwoofers. A two-channel amp can connect to fewer speakers, whereas a four-channel or multi-channel amp may connect to more speakers or subs.