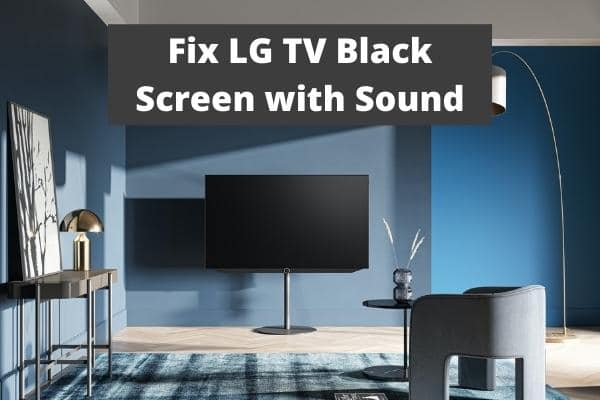 The modern world has evolved, and innovative technologies prevail everywhere, including everything. Smart TVs are the best examples of modern technology that comes up with many great features that offer you the immersive screen experience at home by sitting on your couch and enjoying.
No matter how many brands or companies are present in the market, LG has been among the top list in the case of TVs. This is because they provide top-notch quality intelligent TVs, which everyone loves as they will give you a cinematic feel at home once installed. But electronic devices may cause some issues even they are from top-brand.
These problems include a black screen when you turn on the TV, no sound but the screen is present, etc. The excellent thing is that you can quickly fix these issues. These problems are caused due to some reasons, and once you pick them out, your problem will be resolved. Such issues arise in every TV after some time, so if you want to fix them, keep with us till the end.
Most people face the most common problem: they get a black screen after turning ON the TV for watching, but the sound is present. In that case, the frequently asked question is how to fix this problem using easy-to-follow methods. So, our team is here to aid you in fixing the black screen of your LG TV.
Let's move towards the simple and easy methods to Fix LG TV Black Screen with Sound this problem yourself!
Methods for fixing black screen of LG TV:
If you have some skills, you can easily fix such issues yourself. All you need are some guidelines, so one of the best and easy methods are explained below caused due to common reasons, then let's start.
Unplugging the LG TV:
Most of the time, TV faces software issues that can be fixed without any effort. So first of all, unplug your TV from power. Then wait for some time (like 60 to 90 seconds) and plug your TV again with the power. This method can solve your problem, but if not, step out with us on the following process that may help you.
Fixation of remote control issues:
When you turn ON the TV, if it presents a black screen, try to power ON your TV by using the power button because it will help you in some cases temporarily. However, it tells that your remote controller has some issue, so you have to fix it.
At first, replace the battery of your remote controller, then try to press every button of the remote in case some of it might be stuck. After it, power on your LG TV and see if your TV works out correctly. If not so then buy a new TV remote controller.
Plug LG TV in different wall outlets:
Sometimes, your particular wall outlet hinders the constant flow of current, which affects the performance of your LG TV. If this is the reason for your LG TV's black screen, then this will solve your problem. First, try to plug your LG TV in different outlets available in your home to check whether it's a main problem or not. If your TV works out that way, then approach any electrician to fix the wall outlet of that particular place where you usually place your LG TV.
Rebooting option:
Software problems cause the TV screen to appear black, and then a simple method for fixation is to reboot your TV. For rebooting your TV, you need to unplug it from the power.
After that, hold the power button on the TV remote for almost 30 seconds. Finally, again plug in the TV and ON it to see if the problem is solved or not.
Check out all cables plugged in LG TV:
Sometimes, the cables made for presenting the screen properly on the TV are the main reason for the black screen while the sound is present. That's why it is recommended to have high-quality HDMI and power cables. If you want to know what is the cause of the problem, remove all these cables from LG TV and attach them to any other TV.
If this problem continues, the only solution is to change the faulty cables with a new one. People think that if the physical state of the cables is correct, then there will be no issue, but it is not valid because some problems are happening inside the wire. One more thing to remember is that; keep your cables away from dust as it will also hinder the proper connection.
Test power supply and backlight board:
Since all the minor issues causing the problem of the black screen are mentioned above, move to some severe methods that require little effort. First, if your LG TV has an LCD-type panel, you have to check the backlight as it enables you to see the images on the screen.
For that purpose, you need to have a flashlight. So after turning ON your TV, take that flashlight and throw its light from a distance of 1 to 2 inches on the TV's screen. If you see the image from that angle, it means your backlight has been broken. So you have to repair it.
If the power supply board of your LG TV is broken, then consider buying a new smart TV rather than spending money on repairing it.
Factory reset of TV (if your TV has such an option):
A few LG intelligent TVs models have developed the factory reset option, which will help you fix this problem. You can reset the factory setting even if your LG screen appears black, giving you access to settings. If you want to reset your TV settings, remember to erase all your previous data. So keep the backup in that case.
Approach to professionals:
This method is applicable once you have tried all the methods mentioned above. If none of that methods is helping you in the fixation of the black screen, then this is the last option to do.
It would help if you approached and then talked to TV professionals from the LG Company. In these terms, go to the LG website and reach the LG support and check out whether they have any solution for your problem or not.
Reasons behind the black screen of LG TV:
Many reasons are causing the black screen problem once you turn ON your TV within sound. Common reasons are given below:
Outdated firmware
Loose cables
Temporary glitch
Software problems
Hardware problems
TV remote controller issues
Connectivity issues
Backlight issues
Failure of power supply
Conclusion:
The most common issues related to the black screen of LG TV with sound are due to some reasons which we explained above. However, any electronic device, including TV, causes issues that can be minor or significant after some time.
Most of the little problems can be fixed by you because they have easy steps to follow. However, if any method is not working for you, there might be a big issue that only professionals can handle.
So not lose hope without making any effort, try all the methods, and then decide. We hope these methods will be helpful for you. Best of luck!