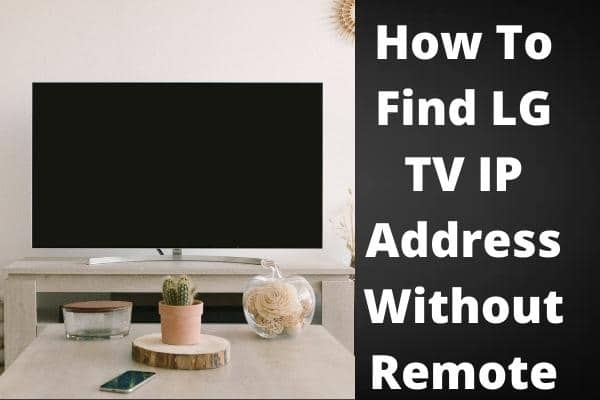 What if you lost your TV remote or somehow it is not available at the moment of need? And, you have to check your LG intelligent TV network settings or want to access your IP settings! Then, How To Find LG TV IP Address Without Remote?
There are various ways to find LG TV IP addresses without a remote. But before that, this question may arise in people's minds, why do we need to change our IP address?
The answer to this question is simple; sometimes, we have to switch our network to other and change settings or configure new network settings or connect our TV to another intelligent device requiring its IP Address. All these scenarios require opening network settings and then executing further instructions.
Let's discuss ways and methods through which we can know the IP address of our smartphone in case if we lose our magic remote.

How To Find LG TV IP Address Without Remote
Control your LG TV with Mouse/keyboard:
First of all, check your LG TV whether it supports external mouse or keyboard connectivity or not? All the latest LG TV models have these options; furthermore, make sure to check your user manual or guide that comes with the TV and browse the remote control section; there, you find all the supported keyboards and the mouse that your TV allows.
Now connect the keyboard wire/wireless with your TV and start navigating TV control; go into the network setting; after that, go to IP settings or check network properties; right there, you will know the IP address of your TV. If your mouse and keyboard are not supported, no need to worry about it. Follow multiple other available strategies!
Navigate your TV through PC/laptop:
Well, you can know the IP of any device that connects to your home network or shares the same network with other devices. The easiest of them is installing third-party software on your computer and running it.
It will show all the connected devices on your network with IP, and MAC addresses, whether it's your mobile phone, IOTs, TVs, or laptops. You can check and identify the name and IP of your LG smart TV from there.
Operate your TV with your smartphone:
You can operate and command your TV through your smartphone in various ways. Let's discuss them one by one.
By using third Party Apps:
Likewise pc and laptop, you can also know the IP of your LG TV by using your smartphone. Both iOS and Android Apps stores have plenty of options and are filled with these apps. You can download any app with high ratings and positive reviews, run it, and it will also provide IP and MAC addresses that are connected to your home network.
By using mobile own IR blaster:
Almost all LG smartphones are equipped with IR blasters; IR blaster is the technology by which a remote communicates with the TV and its sensor on the phone's top side. Just align your phone, the same as you do with your actual TV remote, and start navigating your TV controls by using your mobile's built-in remote control app.
Your phone will now act as a remote and perform all the functions of a TV remote. Just go to network settings and search your IP address there.
Note: Take care of the small fact that all of your devices need to be paired on an identical network.
Open Router settings:
All the connected devices on your home network are routed and controlled by a router. Just login your router on your laptop/PC or smartphone put your login id and password, and you will land on the main router page.
Go to LAN/WAN settings and browse all the connected devices, there you will find all the connected devices and their IP addresses; look for your LG TV and note your IP address.
Let's break it down further in easy steps for better understanding.
Open your router login in your browser by typing your respective router IP.
Put login details, username, and password, enter if you don't know your router details, and check the user manual.
After login, browse options and look for, a list of connected devices in Wi-Fi options or MAC addresses of all the connected devices.
You can find the complete detail of IPs, MAC addresses, and software versions that connected devices use.
Note: Different routers may have different interfaces depending on their manufacturers, but the settings and network options are identical and come as standard. Just go to settings and browse further options.
Nowadays, almost all the big and renowned brands have smartphone apps. These apps can be specific to single devices/assigned devices or general-purpose apps which can control almost all the devices.
They are readily available on App stores. Apple users can download it from the iOS app store, and Android users find this app on the google play store.
With this application, you can command and control your LG smart TV and further explore network settings to know your IP address. LG TV plus is the official app of LG; you can download it and use your smartphone as your remote. Just do as mentioned in the steps below, and install the official LG App on your device.
Select and tap on any supported app store on your phone.
Search for the LG app by putting these keywords in the search field of the app store.
Select the respective app, tap it, and it will open a new window where all the details, ratings, and reviews are listed.
Make sure it's official by checking the details.
Once you confirm all the details, tap on install, and your app starts.
Open the app after installing it, connect your smart TV with it, and navigate your TV to know your TV IP address.
Conclusion:
Remotes are a conventional and typical way to operate and control your TV. Almost all age groups are familiar with it and how to use it, but sometimes we lose our remote, which irritates us a lot until we find it. But there are multiple ways to control your smart TV and command it, just like a TV remote.
In this article, there are various options by which you can perform typical functions on your smart TV and execute any task. From using the internet, playing any games, streaming any videos, configuring your network settings, changing and knowing your IP address, any task can be performed using the methods discussed in this article.