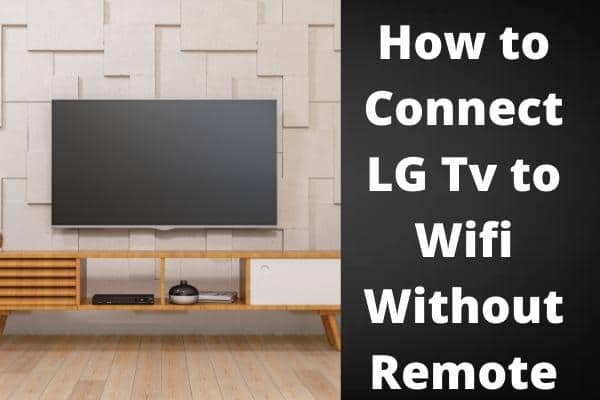 Imagine having a smart TV without having the remote then you will end up thinking that how can I be going to use it now. Or, in the case when you still don't know How to Connect LG Tv to Wifi Without Remote, the losing of remote will be like a nightmare.
People worldwide become worried whenever they lose their remote, especially when their favorite show is live on TV.
If you have bought a new LG TV and it still didn't connect to wifi, what is the benefit of getting a new smart TV? Hey! Don't worry; we have a solution for this purpose. If you know, you will be able to connect your TV with wifi without a remote in several ways without any difficulty.
The solutions that replace TV remotes are straightforward and cheap to use, so use them by comforting yourselves. The easiest method is to use a USB mouse to connect wifi with your LG smart TV without using a remote. In these terms, there are some steps that you should follow to set up the wifi easily.
Methods to follow for connecting TV with wifi without remote:
Method No 1 (connect USB mouse with TV):
Take a USB mouse and connect it with the TV using its USB port.
Then press the power button that is situated in the center or underside of the LG TV.
Now toggle the LG TV to the input.
Then click on the option of "Live TV" and wait some time taken by the menu to close.
Now move the mouse to the right corner of the TV screen and then click on the option of "recommended."
Then you will see a "network disconnected" alert pop up. Click yes on it.
After this, you will be able to catch up with the wifi network details to log in as the network settings will appear in front of the TV screen.
Method No 2 (smartphone as a remote):
Now you can use your smartphone to replace the remote, but for this purpose, you need to do some things before so that this method will help you in the future whenever you lose your remote.
First of all, in this method, you also need a USB mouse because when your TV does not have a connection with wifi, you cannot use a smartphone as a TV remote. Therefore, you should place the USB mouse firstly.
First of all, make sure that your TV and smartphone have the same wifi network because if your TV and phone are on different wifi networks, it will not sync with LG smart TV.
Once your TV has wifi, search for the app "smartify-LG TV Remote," whether in Google or apple play/app store.
After installing the app on the TV, you will see an alert message that will pop up on the screen and show this text "Smartify would like to find and connect to devices on your local network".
After finishing this phase, you will continue to the next phase to click on the "Okay" option.
Now your smartphone is connected with your LG TV.
Now you will be permitted to utilize your smartphone as the remote. As a result, you can minimize/maximize the volume and change the channels accordingly.
Method No 3(connecting the LG TV with wifi router by using Ethernet cable):
This method will work out for those who have installed their wifi router near the TV location in their homes. Even if you have lost the remote, this method will be helpful as you will be able to connect your smart TV with a router or modem. To connect the modem and TV, use the Ethernet cable.
First of all, confirm whether the LG TV you have comes up with a LAN Ethernet port or not. If it hasn't that option, this method will not work for you.
If your LG smart TV has that option, take an Ethernet cable.
Connect one end of the cable with the TV and the other with the router's empty LAN port, mainly located on the back of the modem.
This method will quickly connect your TV with wifi.
If your TV doesn't show any wifi network still, then try to unplug the cable for some time and then try again.
The above step will reboot your TV, and it will automatically recognize the internet connection.
Once you end up following all the aforementioned points, you can use your smartphone as a TV remote and enjoy.
Method No 4(replacing lost or broken LG TV remote):
This method is considered as the permanent solution to this problem. All the other methods are temporary solutions because the remote is the central part of the TV.
Having a television that comes without its remote control unit is like having a smartphone without an internet connection. So if your remote has been broken or lost, try to replace it with the new one.
The TV remotes come up at a very affordable price and replacing them is not a difficult task to do. Moreover, online shopping stores such as Amazon have made life super easy. All you have to do is place an order, and it will be delivered to your home in a few days. It is always recommended to replace a remote rather than other methods.
Conclusion:
TV remote plays an essential role in the operation of the TV, and if you have lost it, they will be worried about how to watch your favorite TV show tonight.
To solve this problem, we have provided you with plenty of options that you can try because those are pretty easy to operate and affordable. In addition, the things you need are mostly available in every home.
If important things are coming soon on the TV, use the first three methods described above as the near-term solutions. Otherwise, you should try buying a new remote as it will be helpful in the future too. Hopefully, this article will help you solve your How to Connect LG Tv to Wifi Without Remote problems quickly and easily. Best of luck and enjoy!