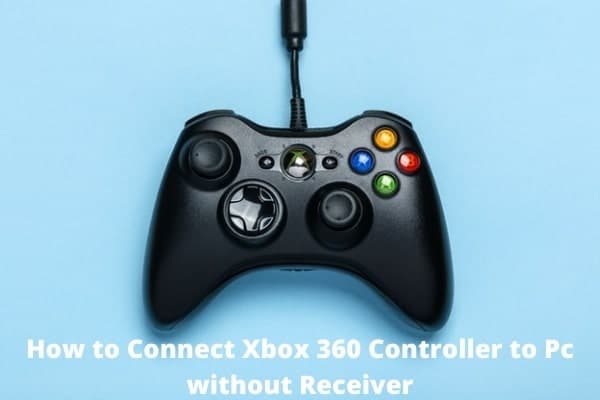 If you're a serious video gamer, using a mouse and keyboard can be aggravating. To take instant action in games, you must sit by your PC, hold down the keys, and memorize numerous other buttons.
It becomes quite uncomfortable when your hands have been lifted in an awkward position for hours. Therefore, it is pretty important to know How to Connect Xbox 360 Controller to Pc without Receiver?
It is where an Xbox 360 Controller for PC comes in handy. As convenient as they are, pairing these controllers with your PC might be difficult or expensive at times. You're probably wondering if an Xbox 360 controller can be connected to a PC without a receiver. Continue reading to find out if that's doable!
How to Connect Xbox 360 Controller to Pc without Receiver?
Use wired controller
A more practical choice will be an Xbox One controller if you enjoy Xbox controllers, either wired or wireless. The best thing about these Xbox One controllers is that they plug and play, at least for the wired version. In the case of the wireless Xbox One controller, you may connect the controller to your PC over Bluetooth.
Users who have a wired Xbox 360 controller can connect it and test the controller. If you have a wireless Xbox 360 controller, connect it to the receiver that is plugged into the computer first. The cable connection is the simplest method of connecting your Xbox to your PC. The installation procedure is straightforward and painless.
1. First and foremost, locate the USB port on your computer. After that, plug the controller onto a USB port.
2. The next procedure will be fully automated. The computer will automatically recognize the controller and begin downloading the necessary drivers.
3. Your computer will indicate the success of the connection. You can now play the games with your Xbox 360 controller.
When you've finished installing and syncing the devices, it's time to put the controller through its paces. Enter "game controllers" into your PC's search bar. Following that, you will see an option labeled Set up USB game controllers.
You may now put it to the test. Turn the joysticks, pull the triggers, or even push all the buttons all at once. If everything is in the right order, all of your controller activities will be logged in the software on the computer. Every button you press is recorded in your system. If you can't test it, we propose that you troubleshoot the controller and try again.
Purchase Windows Bundle
The standard method for connecting an Xbox 360 controller to a PC without a receiver is simple and proven. You do not have to spend any more money to buy anything because Microsoft has provided this option. As a result, you must obtain the pack from the company.
Purchase the Xbox 360 wireless controller's official Windows bundle.
Although it is costly, there will be no issues when connecting.
You can find retail shops and off-the-shelf stores and purchase them there.
If you don't need the extra controller, you can sell it.
Let's go to the following stage: installing the software. It will assist you in connecting the wireless gaming receiver to your Xbox 360 controller. Follow the instructions outlined below.
Download the software or, if you have the installation CD, place it into your PC's optical drive. Restart your computer for the CD to work properly.
Select the language and Windows version you are using when the on-screen wizard appears.
Select Run to allow the Xbox 360 accessories setup to begin when the download page appears.
When the download screen appears, click Run to allow the Xbox 360 accessories setup tool to install the required files.
Once the installation gets complete, restart the computer
Buy an adapter
Another alternative for connecting your wireless Xbox to your PC is to use an adaptor/receiver. The Xbox package includes Microsoft adaptors. They are not sold individually, so buy them from a different company.
They are reproductions of genuine Microsoft adapters. Although the quality isn't as high as possible, it's still fairly usable. It would be advantageous to be cautious when acquiring an adapter from a third party. Another way is to purchase an old Xbox adapter.
Connect the adapter to your PC and wait for the driver to install it before turning on your controller automatically.
The wireless Xbox 360 controller includes a button next to the USB port, between the R and L buttons.
For a few seconds, press the wireless button on the controller and the power button on the adapter, then hit the Xbox button on the controller and watch them sync automatically.
For Windows 7
After connecting the controller, Windows 7 users will be prompted to add new devices. Click on the add USB adapter and "Install the software automatically" buttons. You can download the drivers or manually install them from a CD or the official website.
For Windows 8 and 10
It is rather simple for Windows 10 and 8 users once the device is recognized. It will instantly download and install the drivers needed to run the controller.
If your Xbox 360 controller is wireless, you'll have to go through many difficulties to connect it to a PC without a receiver. It is pretty simple if you have a Wired Controller. All you have to do is attach it to a USB port, and Windows will immediately recognize it as a Microsoft Xbox 360 controller.
Use Third-Party Apps
So, if you cannot use any of the above techniques, here is a final alternative method that may be suitable for you. This method will necessitate the purchase of a second adaptor/receiver for your PC. Because different consoles have different Bluetooth modems inside them and the controller has the same one, you'll also need that in your PC for the controller to work wirelessly.
Microsoft creates these specific adaptors that come with the XBOX box, but they are not sold separately. There is a good probability that you can buy them from local retailers. Furthermore, these adaptors are also created by third-party individuals; therefore, you should exercise caution while purchasing one because, Third-party products, as we all know, are untrustworthy unless they come from a reputable company. Now that you have that adaptor, we may proceed to the next steps.
Locate the USB port on your computer and insert the adapter into it.
Navigate to the Windows search box and then to the Device Manager.
Select the "Other Devices" sub-category.
Select "Unknown Device" and then "Update Driver Software."
A pop-up box with the text "Browse my Computer" will appear; pick it up.
Select "Let me choose from a selection of device drivers."
You will discover a comprehensive list of gadgets. Select "Xbox 360 peripherals."
Another list will appear with all models; select the most recent one and click the "yes" button to begin the installation procedure.
Use Orphaned USB Receivers
You can also locate many orphaned USB receivers online. Everyone does not require a controller and receiver pack at the same time. That's why they used to detach the USB receiver and sell it separately on the internet. However, it is a risky gamble because you don't know whether it will work or not.
Remember a few things when purchasing them if you want to utilize orphaned USB receivers for the Microsoft Xbox 360. Before listing, you must ensure that they have been tested with their original controller. It will ensure that there are fewer incompatible concerns.
Look for a listing that depicts the correct image of the product.
On the product, look for the Microsoft logo.
Check if the package includes a CD, official instructions, and a driver.
Use clones or duplicates
You will also come across clones or copies. They are practical, low-cost, and affordable accessories for everyone. There are multiple USB receivers on the market that are knockoffs or imitations sold separately.
It is available on a variety of online sites and in physical locations. These identical replicas of the originals can frequently be found at low prices. You won't detect the difference between it and the official ones; the only difference is that setting it up can be more difficult.
The Microsoft Xbox 360 official has a stamp on the rear that states Microsoft Xbox 320 Wireless Receiver for Windows. Instead, duplicates and clones merely say Xbox 360 or PC Wireless Gaming Receiver.
Conclusion
Don't get trapped trying to figure out how to connect an Xbox 360 controller to a PC without a receiver using the methods outlined above. Also, for easy connections, try to obtain the original Xbox 360 from Microsoft. It is, however, difficult to connect with counterfeit devices, although it is not impossible if the workarounds listed above are used.
Frequently Asked Questions
Can you connect the wireless Xbox 360 controller to the Pc with Bluetooth?
The Xbox 360 controller uses wireless protocols rather than Bluetooth. As a result, the Xbox 360 wireless controller cannot be used with normal wireless devices on your computer. It would help if you had the Wireless Gaming Receiver for Windows to use your Xbox 360 controller on your PC.
How to Reconnect Your Xbox Controller to Your Console?
When using a wireless Xbox controller, you can switch it off by holding the Xbox button for about five seconds. The controller is turned off when the light goes dark.

Remember that if your Xbox controller is already attached to your console, pushing the Xbox button will power on the system. Pair it wirelessly using either of the ways described above, but you should probably turn your console off after doing so (or shut down and unplug it before you start).
Does the Xbox 360 controller have Bluetooth?
Xbox 360 controllers do not support Bluetooth, and they employ a proprietary RF interface that requires a USB dongle to function. There are certain newer Xbox ONE wireless controller that allows Bluetooth to PC, but you must ensure that you obtain one with Bluetooth support because not all Xbox One controllers do.
Do you need a wireless adapter for Xbox 360 controller?
The wired controller is a straightforward plug-and-play solution, but if you need wireless play on your PC, you'll need to buy a USB-to-wireless adaptor for the controller. True, you can't simply attach a wireless Xbox 360 controller to your PC over Bluetooth.
How to Connect Xbox Controller to PC via USB Cable?
A micro-USB cable is the simplest way to connect your Xbox controller and PC. Connect the slim end to your Xbox One controller and the other end to a USB connection on your computer. If the controller does not switch on automatically, press the Xbox button.
How do I connect my Xbox 360 controller to my phone without a receiver?
You can also connect the Xbox controller wirelessly by downloading the Xbox wireless adapter app for Windows 10 PCs, Windows phones, or Android systems.
Hold down the "X" button on your wireless controller until it beeps, then press any key or move any control stick to exit pairing mode and continue the setup of your windows phone or Xbox 360 console.
How do you use a Xbox 360 controller without the adapter?
To learn the buttons, go to Settings > Devices > Bluetooth & other devices and press Add Bluetooth or other devices. Your computer will search for available controllers within range of the PC, so make sure it's turned on! When a pop-up window appears asking what type of device is plugged in, select Xbox 360 Controller and hit next.