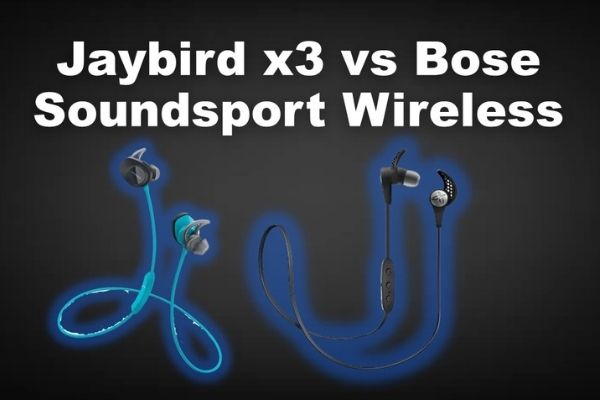 Hello Technophiles… Day by day, the field of technology is evolving. Nowadays, technology has given rise to an amazing trend. The evolution in technology is to go wireless, and this has permeated our listening devices.
Wireless listening devices are simply more portable and efficient because they take up less space due to the lack of a cord that connects to your phone. Having wireless listening devices also means you don't have to worry about untangling your headset when you take it out of your pocket. When it comes to our listening experience, this is where we're going.
Comparison Chart: Jaybird x3 vs Bose Soundsport Wireless Sport Headphones
JAYBIRD X3 SPORT HEADPHONES
BOSE SOUNDSPORT HEADPHONES
Variants
X3 (Alpha Green)
X3 (Blackout)
X3 (Red)
X3 (Sparta White)
SoundSport Wireless (Aqua)
SoundSport Wireless (Black)
SoundSport Wireless (Citron)
Enclosure
Closed-Back
Semi-Open
Battery Time:
Battery time is claimed at 8 hours
Claimed battery time is 6 hours
Safety while cycling:
These aim to exclude sound.
It does not exclude external sound.
Bluetooth Connection to your smart device:
Connectivity is excellent, outstanding, and flawless
Connectivity is excellent and instant.
Low Battery Alert:
X3 has a tiny battery indicator that shows up on your smart device
Low Battery Alert feature
Communications:
The Jaybird X3 communicates with you via a pleasant female voice.
The Bose SoundSport communicates via a measured, pleasant female voice.
Price Comparison of Jaybird X3 and Bose SoundSport
Jaybird X3 can sometimes be bought for as little as $100 these days
Bose SoundSports cost anything from about $135 to $170
Waterproof?
Not waterproof, but guaranteed sweatproof
Not waterproof, but guaranteed sweatproof
Ear fit
It comes with three sizes of Comply memory foam ear tips
It comes with three sizes of soft, removable tips
Built-in microphone for making phone calls?
Yes – it works very well.
Yes – it works very well.
Do they stay in your ears?
They are designed to have a secure fit for athletic use.
They are designed to have a secure fit for athletic use.
What powers do you have?
With the Jaybirds X3, you can use the inline controller to turn them on and off, answer calls, skip tracks and go backtracks, switch phone calls, and call up Siri
With the Bose SoundSport, you can use the control on the right earbud to switch them on and off; you can use the inline controller to change volume, skip tracks and take calls
Durability/ruggedness
Quite sensitive; it needs to be handled with care
Surprisingly rugged
App
The My sound app
The Bose Connect app
Auto-Off?
Yes
Yes
Charging time
2.5 hours
2 hours
Weight
0.5 oz (14 grams)
0.8 oz (23 grams)
Jaybird x3 vs Bose Soundsport Wireless
The Bose SoundSport Wireless and the Jaybird X3 are two of the finest Android wireless headsets in terms of build quality, durability, audio quality, connection, and affordability.
Distinct Features:
They have distinct features that can cater to a variety of needs. Picking one of the Jaybird X3 or Bose SoundSport headsets over the other is difficult. Those who have had to make a choice and choose one of them will tell you that it was not easy.
Best Headsets for Athletes
The two headsets are designed for music fans, athletes, and gym-goers.
Long story short, You, as a cyclist and athlete, deserve the best music listening experience possible. If you enjoy being outside, you should invest in a good pair of sports headphones. So, what are your top picks for the best sports wireless headphones for music listening?
If you are still ambivalent, don't worry, you can consider two popular wireless sporting headphones options. 😉Here I am to make this easy for you by providing you complete details of both these amazing wireless headsets and making it easier for you to choose the one that best suits you😊
One is the Jaybird X3, which provides excellent performance for your outdoor music desires. The second option is Bose Soundsport, which provides a thrilling audio experience while on the go.
Aside from the high-quality body construction and out-of-this-world sound quality, the headsets are wireless, which is a big plus. Because they are wireless, they are compact and convenient because they do not disturb you with unnecessary wires while you are jogging or working out in the gym.
JAYBIRD X3 OR BOSE SOUNDSPORT WIRELESS?
Let's compare the two, so you can make a more informed decision.
Comparison
Comparing these two models is quite interesting because, for the most part, their performance is very similar.
It's difficult to distinguish between the two, though some distinctions are to be made. The Bose, for example, has a semi-open style, whereas the Jaybirds have a closed-back style. Semi-back earphones are my preference because they fit into your ears much better. The Bose are also far superior in terms of style. The Bose are also far superior in terms of sound leakage, which was one of my major complaints about the Jaybirds.
On the other hand, the Bose Headsets fall short in a few areas. The Jaybirds, for example, have a significantly greater wireless range than the Soundsports, which is an important feature of any set of wireless earbuds. The controls on the Jaybirds are also much easier to use, so there are a few differences between the two that you should be aware of.
Jaybird x3
Best Pick
The Jaybird X3, the company's third updated version of its popular sweat-resistant wireless sports headset, is likely the best headset the company has produced.
What makes it the best one?
What's different about it this time? To begin with, it is smaller than the X2. Its inline remote has also been redesigned, and its battery has been upgraded from NiMH (nickel-metal hydride) to lithium-ion, allowing it to play music at moderate volume levels for up to eight hours. The battery life is the same as the X2, but lithium-ion is more reliable than NiMH and can be charged and discharged more quickly.
Design:
Other enhancements include redesigned tiny ear fins that help secure the buds in your ears, and Jaybird now includes a clip to attach the headphone to the back of your shirt, similar to the one found on the Bose SoundSport Wireless.
Charging accessories:
It's also interesting to note that Jaybird comes with a charging accessory that connects to a Micro-USB cable, which is then clipped onto the inline remote.
It's one of those items that's easy to misplace (the accessory comes with a lanyard). Still, Jaybird reps told me that this charging method was chosen because sweat and grime from people's hands occasionally ended up in the USB charging port on the X2 and caused the headphone to fail.
Pros
Do you know that this amazing Jaybird X3 wireless sports headphone has comparatively a better battery performance and is less expensive and sounds great for an in-ear Bluetooth headphone? And the amazing thing is it is sweat-proof and comes with a small protective carrying pouch.
Cons
The only problem you can face when using Jaybird x3 is its charging cable. So remember not to lose its charging cable else you won't be able to charge the headphone; not as comfortable as the Bose SoundSport Wireless; its noise-isolating design may pose a safety risk for runners.
Final Words For Jaybird x3:
The Jaybird X3 is a significant improvement over the X2 and one of the best Bluetooth sports headphones on the market right now. Get rid of ear fatigue with these amazing sports headphones.
BOSE SOUNDSPORT WIRELESS
Bose's SoundSport Wireless is the very first Bluetooth sports headphone made by Bose. The great ;p. It isn't perfect either, but it could be the best Bluetooth sports headphone on the market right now.
What makes it the best one??
What distinguishes it as the best? Bose Soundsport is very comfortable to wear, it sounds good, it appears to be well built, and it's not too expensive at $150 either.
Design:
This new SoundSport Wireless, like the original SoundSport wired, has an open design and has been reduced in price from $130 to $100. By open, I mean that you don't completely seal off your ear canal by jamming the earbud into it (that type of headphone is referred to as a "noise-isolating" in-ear headphone). Bose's StayHear+ ear tips, which come in three sizes (small, medium, and large), allow the bud to sit loosely in your ear while remaining securely in place.
Pros
The SoundSport Wireless is a very comfortable in-ear wireless Bluetooth sports headphone that is sweat-resistant and has excellent sound quality. Because of the winged tips, the earphones fit snugly in your ears. The headphone performs admirably as a headset for making phone calls and includes an auto-off feature to conserve the life of the Battery.
Cons
The earpieces protrude noticeably from your ears (they're a little bulky but not heavy), and the life of the battery is limited to 6 hours.
Final Words For Bose Soundsport Headset:
The Bose SoundSport Wireless is the most comfortable and well-rounded in-ear Bluetooth sports headphones on the market right now. Feel free from Background Noise with these super Sport Headphones.
Battle: Bose Soundsport Wireless or Jaybird x3:
The Bose SoundSport Wireless and the Jaybird X3 are two of the best android wireless headphones in terms of build quality, sound quality, connectivity, and price. They have distinct features that allow them to cater to various niches in the audio market. Today, we'll compare them side by side to see which one will best suit your listening needs.
Design and packaging
When you see your device on the shelves of an electronic store, the packaging makes the first impression. It simply makes it more appealing and presentable.
Packaging of these sports headphones
The black foldable magnetic boxes that come with these devices are very quick and secure. They both come with various-sized earbuds, a carrier, and their own charging devices. When you open the boxes, you'll notice that the headsets are covered in plastic tops that outline their shapes. When you unload the plastic tops, you'll find the various accessories underneath.
Design and packaging of bose soundsport wireless headphones:
The Bose SoundSport Wireless is packaged in a black magnetic box with a foldable sleeve that includes relevant information about the product, such as the various features and functionalities, reminders, certifications (for water and sweat resistance), and so on. With its bright blue and black colors, the Bose Sound Sport box exudes a vibrant and sporty vibe (depending on what color you are going to get). If you are a very sporty and outgoing person, the Bose SoundSport Wireless is ideal for you because of its "Stay Here Tips," which help keep the buds in your ear while allowing ambient sounds to come in jogging or biking.
Design and packaging of JAYBIRD X3:
The Jaybird X3 went for a more elegant and minimalist look with a gold and white color scheme. It also comes in a black magnetic box with a foldable sleeve containing important product information such as the various functions and features, reminders, certifications (for water and sweat resistance), etc. If you like to isolate yourself in a crowded area and highly regard aesthetics, the JayBird X3 is the way to go.
Sound quality:
The Bose Soundsport headsets have strong bass and a robust sound. These earbuds deliver clear, powerful sound clarity. It yells at you in an aggressive but pleasurable manner at times. The audio quality on the Jaybird x3 is outstanding. These wireless earbuds appear to be immaculate. Thanks to the silicone tips, these earbuds have better sealing than their preceding model. Not only do these earbuds have crystal clear sound quality, but they also provide a lot of comfort.
Headset with best sound quality:
The Jaybirds offer a little improved sound quality than the Bose headphones, which seem to be fairly good when compared to other headphones in the sector. This battle, however, is won by the Soundsports. Bose Soundsport provides genuine noise isolation.
Connectivity:
The Bose Soundsport headsets connect via Bluetooth. There is no audio cord or port with these earphones. You cannot pair these headsets with multiple devices.
They don't have enough memory for auto-pairing. However, it appears that these earphones have adequate NFC support. You can use it to view movies and play games. However, you should anticipate a significant amount of delay.
The Jaybird x3 headset also connects via Bluetooth. You need to turn them off before syncing. They don't connect readily without NFC.
Headset with best connectivity option:
Though Jaybird x3 has flawless connectivity, most Bose soundsport headphones have NFC connectivity, which is a good option if you don't want to use Bluetooth Connection.
Sound application:
Bose Soundsport app, namely Bose Connect App, unlocks the full potential of your Bose Soundsport Headset. It gives you quick access to key features on your headset like the auto-off timer and volume control and lets you know about the battery left.
You know what? This app is the easiest way to manage multiple Bluetooth connections. You can share the music and get the most out of your headphones.
Jaybird x3 has my sound app that gives you the tools you need to take total control of your Jaybird x3 headsets. Else it also provides you with Customized Button functions, auto-off, voice prompt, audio prompts, and the list goes on.
Best app:
I vote for Bose Connect app as it is far superior to the Jaybird app.
Price comparison:
These days, you can get a Jaybird X3 for as low as $100, which is a lot less than they used to be, and a wonderful deal for quality Bluetooth headphones. At the same time, Bose SoundSports headphones range in price from $135 to $170.
Preferrable headsets based on cost:
The Soundsports are slightly more expensive than the Jaybirds, so if you are tight on budget, you may go for Jaybird x3.
Battery life:
The main advantage of the Jaybird over the Bose Soundsport Wireless is the longer battery time. While the Soundsports will give you about 6 hours of battery life, the X4 will give you between 33 and 50 percent more, giving you 8 to 9 hours. This is quite significant, so it's important to consider as you would not like to miss out on your favorite music ;P. The mediocre life of the battery of the Bose Soundsports is a little disappointing, especially when compared to the excellent life of the battery of the Jaybirds.
Durable
Jaybird x3 are extremely delicate; you need to handle them with much delicacy. Simultaneously, Bose sound sports are surprisingly tough. They outlast the Jaybird x3 in terms of durability.
More durable headset:
Bose Soundsport is preferable in case of durability.
Best one for phone calls
One of the main reasons I don't like Jaybird headphones, in general, is that they're not as good for phone calls as I'd like. They can be a little spotty for phone calls, but in my opinion, the Bose headphones are far superior. So I don't need to say No to any Incoming Phone Calls when I am out in traffic and simply enjoy my conversations with friends.
End of the battle
Keeping in mind the key features mentioned above, I am sure you would have understood that the sound quality of the Bose Soundsports is superior. So, if you're looking for the best sound, these are the better choice because they produce excellent sound. However, if you want a good sound and a great all-arounder, the Jaybirds are better.
They have a much longer battery life than almost every other set of wireless earbuds on the market, so they're worth considering if you need a long-lasting pair.
Final words:
The Jaybird X3 is small in size, extremely comfortable, and ideal for your sporting activities. The Jaybird X3's audio performance is also outstanding. The Bose Spoundsport is both comfortable and stylish. If only one must win by a slim margin, it will be Jaybird X3. Both the devices are equally good, but if I have to suggest you one device, I would suggest Jaybird x3.
JAYBIRD X3 is Advantageous… how?
It also has an advantage in terms of battery power. Both premium headphones have similar functionality and features. You can look at features if you need to buy one. However, the Jaybird X3 is a popular sporting headphone that truly shines. Take your pick based on your preferences.
Frequently Asked Questions
Why should you buy Jaybird x3?
The Jaybird X3 is an excellent sounding headphone with excellent audio quality. It's perfect for all of your sports and outdoor activities. It has improved control buttons as well as a great speakerphone.

You can use the headphone anywhere because it is sweat proof. The battery performance of the Jaybird X3 is excellent, with up to 8 hours of battery backup. It works in conjunction with the My Sound app to provide you with a personalized music experience. If you use it on the go, it also provides a good sound quality.
Why should you buy Bose Soundsport?
The Bose Soundsport has a great design and a great bass base in sound. Compared to other
sporting headphones, it has a very premium feel to it. It has a good Bluetooth range and is also sweatproof.

These in-ear wired headphones are useful because they allow you to make and receive any incoming phone call with excellent sound quality. When compared to the Jaybird X3, bose earphones only have a slightly lower battery performance.