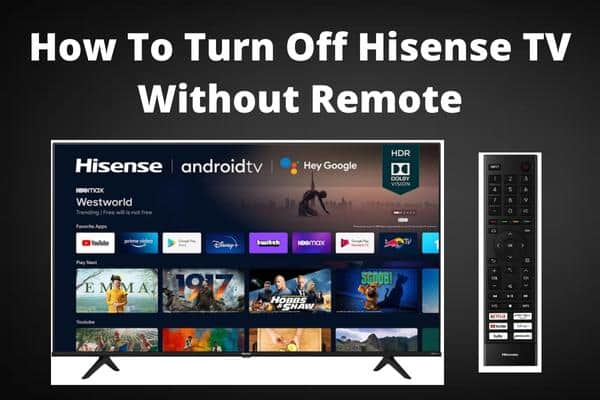 Do you know how to turn off Hisense TV without remote? If not, continue to read; this article is for you!
Televisions have become smarter. Modern televisions have features that earlier generations could not even imagine, such as HD movies, built-in internet connections, and Android/OS on TV; Hisense TVs are well-known in this regard.
But what if you're about to sit down to binge-watch your favorite shows on your Hisense TV when you realize you've misplaced the remote. Or perhaps the remote has stopped working. What is going to happen next?
Without a remote, how can you even turn on your Hisense TV, let alone view your favorite shows? Whatever the reasons are, here are some best possible ways to turn off a Hisense TV  model without a remote!
Locate the Buttons
Most televisions have control buttons, such as power, settings, channel, and volume. You may always control your Hisense Smart TV without using the remote by pressing these buttons. It is one of the most basic methods for controlling your HiSense TV without a remote.
On most modern TVs, the Power button is the only button you can use to turn off and on Hisense TV without a remote.
Utilize the Android TV Remote Application for Hisense TVs
The latest Hisense televisions are usually pre-installed with Google's Android operating system. If your remote isn't working or you've misplaced it, you can use the Android Remote Tv app to replace it.
Install it and click the option agree to all the terms and conditions of that application.
Ensure your television is turned on and your television and mobile device are linked to the internet connection.
Try to look for the HiSense Smart TV on the application.
To connect with the TV, select it. Pair it with the code on your mobile device to validate the connection.
Now you are completely ready to operate your Tv without a remote.
Pairing Universal remote with Your Hisense Tv
Use a universal remote control to turn on and off your Hisense TV. After linking your Hisense TV with your device, you may use the universal remote to switch it on or off.
To pair your Hisense TV, you will require universal remote codes. To complete the process, enter the following codes: 0848, 0009, 0156, 0216, or 0073.
On your universal remote, find and click the TV button. Hold the button for a few seconds. Release the button once the LED light on your remote goes on.
Enter one of the codes mentioned above using the number button on a remote. When you enter the right code, the LED blink twice before turning off. If the first code you enter creates issues and if it persists, try using the other ones.
Finally, to ensure that you followed the programming method correctly hit the power button on your remote. If your TV shuts off, you've successfully programmed your universal remote to it. If not, repeat the procedure and try a different code.
Make use of the Roku App
Hisense TVs with the Roku OS provide an excellent feature. You may quickly control your TV using the Roku app on your smartphone if this capability is enabled on the TV. Here's how you go about it:
Go to the Play Store, and install Roku App.
The app must then be downloaded and installed on your device.
Open the application on your mobile phone.
Look for your HiSense smart tv in the available devices area of the app.
Remember that your TV and smartphone are both linked to the same network. When you see your television on the list, click on it and connect!
Please ensure that your TV and smartphone are connected to a similar internet connection. After finding your television in the list, click it to connect the devices.
As soon as your device got connected, you can turn on your television by pressing the power button. You'll have access to all options for managing your television.
Program the Dish Network Remote to Hisense Tv
The first includes turning on the receiver along with your Hisense smart TV.
Hold down the clear tv button on your Dish remote until the lights flicker four times.
After then, press the button on your remote one again.
When you hit the channel up button, your Hisense TV will switch off.
Press the Pound sign button on your remote for one second.
Press the power off button on your Dish remote until your Hisense television goes off.
It will restart shortly, and you are done with your remote programming.
Using Google Assistant
Google Assistant is a famous Google voice assistant service that can handle many of your smart home gadgets. Let's look at utilizing Google Assistant to control your HiSense smart TV.
Install the Google Home app on yours.
Ensure your mobile phone and television are connected to the same internet connection.
You may access your TV through the Google Home app. Tap on it to connect it to your Google Home app.
After connecting, you can manage your TV via the Google Home app.
You can even use Google Assistant to manage your television. Various commands, such as OK Google, turn off the television, OK Google, adjust the volume, and so on.
You can even use the Assistant to play or operate certain YouTube videos.
This app also provides you with on-screen controls, i.e., play or pause the video and increase or decrease the volume by using the available on-screen slider on your mobile phone.
Utilize Infrared Sensor
Most televisions contain an infrared sensor that the TV remote utilizes to detect input from the television. Many smartphones in the market consist of infrared sensors these days. You may easily take advantage of or use this by operating remote applications like MiRemoto.
The applications support many devices, i.e., remote controls almost everything, from televisions to air conditioners. This strategy is only applicable if your smartphone includes an infrared sensor.
The mobile's IR blaster is quite simple to use. Install the Universal Remote Application from your device's play store and select your TV from the names of compatible devices.
To begin, go to the Playstore and download the Universal Remote Application.
Now launch the app and pick "TV" from the menu.
After that, pick "Hisense".
You will now be prompted to try out various remote controls.
Use your remote control to choose the one that pairs with your television.
Conclusion
Hisense televisions have quickly become popular among people wanting high-quality gadgets at low rates. They incorporate numerous features and operating systems to provide their customers with various options. Those who have misplaced their remotes or desire new options will be relieved to discover they are available.
Frequently Asked Questions
How do you turn off a Hisense TV manually?
Adjusting the volume with the designated buttons is usually more convenient when you're near the TV. Instead of digging under the couch cushions for the remote, press the volume up or down button a few times.
Where is the Hisense TV power button?
Hisense televisions have little buttons on the underside of the front panel. These buttons let you adjust the power, volume, and channel. The user can utilize these buttons to manage their Hisense TV without using a remote at any moment.
What does HDMI CEC mean on Hisense TV?
Consumer Electronics Control (CEC) is an HDMI feature that allows you to command and control other CEC-enabled devices connected through HDMI without requiring user interaction.
How do you turn off a Hisense TV?
Find the power button on your Hisense television. It is usually present on the downside of television. To turn on the TV, press the button. To turn off your TV, bell the power button again.