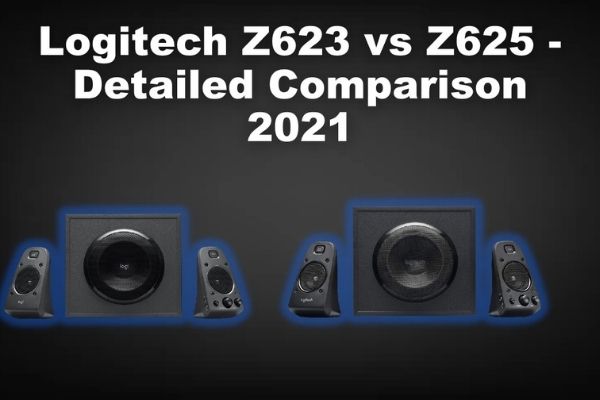 Logitech, the undisputed ruler! The first name that strikes your mind when thinking of buying satellite speaker systems to enjoy high-quality sound is only Logitech speakers. In short, Watching movies~Made easier with Logitech speakers. These multimedia speakers will provide you with sound quality that is far better than the computer speaker, from crystal clear to room-filling.
Remember, it is not only the name that Logitech is good at. It has THX certification. Furthermore, it places great value on performance and delivers accordingly. Adjustable sound settings allow you to fine-tune the bass, and treble to your heart is a delight.
Keep this in mind! I decided to show you a popular version of Logitech gaming speakers/speaker systems, namely:
• Logitech z623
• Logitech z625
They will provide you with a powerful satellite speaker with a powerful subwoofer. These two satellite speakers are compact and user-friendly.
Want to learn more about these Logitech z623 and Logitech z625?
If yes, Come! Let's dive into it and look into their features, pros, and cons.
Here the battle between the two audio systems "Logitech z623 vs z625" begins:
Let's start with a short overview of these small but powerful satellite speakers. 😉
Logitech Z623 Vs Z625 Summary
| Speaker Series | Logitech Z623 | Logitech Z625 |
| --- | --- | --- |
| Item Weight | 18.15 lbs | 18.1 lbs |
| Dimensions of Speaker (Height x Width x Length) | 7.7 inches x 4.6 inches x 5.0 inches | 4.6 inches x 7.7 inches x 4.9 inches |
| Speaker Weight | 2.1 lbs | 1.9 lbs |
| Subwoofer Weight | 15.4 lbs | 14.31 lbs |
| Total Power | 200 Watt | 400 Watts/ 200 Watts (RMS) |
| Speaker Power | 2 x 35 Watts | 2 x 70 Watts/ 2 x 35 Watts (RMS) |
| Optical Input | no | Yes |
| 3.5 mm Input | 2 | 2 |
| Colour | Black | Black |
| Costumer Views | 4.7/5 | 4.7/5 |
Logitech z625 vs z623 Speaker Power
Logitechz623 speaker system delivers a 35 watts audio output, and the subwoofer further pushes an additional 130 watts output on demand.
As you can understand, the Logitech z623 speaker is not that far behind the sound performance of the Logitech Z625 speaker, which delivers twice the audio output of the Logitech z623. 
All true; both speakers produce an outstanding THX-rated sound quality. However, what makes Logitech z623 stand out is the total output of 400 Watts at Peak with about 200 Watts RMS of this thumping sound from every 2.1 speaker. 
Therefore, the Logitech z625 is the most powerful and an upgraded version of the two desktop models as it gives a massive 400 Watts at Peak with 200 Watts RMS of those originating from each speaker. 
These two desktop satellite speakers will produce clean and crisp high notes, and their extended midrange makes them attractive, especially when you can give so much power without the supply output you get from the woofer. 
As you can understand, each Logitech z623 and the Logitech z625 speakers deliver varying watts. The subwoofers further push between 200 and 130 watts, respectively, making the Z625 the perfect option for any speaker enthusiasts looking for a thumping house party with deep super bass.
Everything you want to know about these two speaker systems, their pros and cons, and the specs
they come with, you will get it right here in the post. Read on about Logitech z623 vs. z625 below.
The Logitech z625 speaker is a newer version that is considered an upgrade, and one may even assume it is so much better than the other Logitech z623, but that is not completely the case.
These speakers have different features, which I will share some light on in this post.
Overview Logitech Z623
The THX Certified Logitech z623 2.1 speaker system is a low-cost speaker. At the same time, this audio device has no competition for the speaker's power.
You know what?
This Logitech z623 gaming speaker has a super powerful audio quality because of subwoofers, and they will produce bold, booming sound and ground thumping bass. This will bring your favorite movies and shows to life.
Logitech Z623, with a peak output of 400 watts and an RMS's Power of 200 watts, will deliver a thunderous sonic quality that you will be able to feel with every beat😜
You may use it's 3.5mm and RCA input ports to connect it to your television, favorite gaming consoles, computer, etc. With these speakers have a theatrical experience owing to their THX sound.
One speaker three devices:
Let me tell you that when using Logitech z623, you have got the opportunity to connect your speaker to up to three devices at the same time without any problem at the time of switching between the devices.
You can now connect multiple devices in your favorite list to your Logitech z623 speakers system, such as your TV, computer, smartphone, and even your gaming consoles when you are playing games, using two 3.5 mm (0.14 in) connectors and RCA input. You can keep them all connected and flip between the devices simultaneously as much as you want if you want. You may hook into your own personal soundscape at any time, thanks to the headphone jack on the right-hand speaker.
Design:
This Logitech z623 is designed from the ground up to provide the most authentic experience possible. These THX Certified speakers have been fine-tuned to accurately transmit the artist's vision into your living space. High-Quality Audio guaranteed! You can name this audio system an amazing Audio Engineer 😛
HEAR ACROSS THE SPECTRUM:
Now you can hear across the spectrum with this amazing speaker as this 2.1 system delivers clear sound and thunderous bass. The small satellites bring out the high notes, while the side-ported subwoofer brings out the deep beats. It is quite a strong sound that you can hear.
Perfect Sound
The left satellite speaker is the right speaker with power, volume, bass, and headphone input, so you can get your perfect sound straight away. You may adjust the bass level (up or down) with the dedicated bass knob in this sound system.
Final Words for Logitech Z623:
With a finely adjusted sound profile and product construction that has endured the test of time, the Logitech Z623 is a trusted and proven element and the right speaker for the desktop sound system of the Logitech speaker lineup.
I guess now you want to simply go and fetch this small and powerful speaker. But wait! Get to know about Logitech z625 and then choose the one that best fits you… 😜
Much more to come…
Follow this article😉
LOGITECH Z625
Best Pick
Oh Wow! Another THX® Certified 2.1 speaker system. This amazing right satellite speaker is also here to provide you with high-end gaming-grade audio and the finest movie and music sound experience.
Provision:
Crisp sound and thundering bass are provided by 400 Watts Peak/200 Watts RMS's power.
One speaker three devices:
Use the optical, 0.14 in (3.5 mm), or RCA inputs to connect up to three compatible devices. All controls are easily accessible on the right satellite speaker.
Multiple inputs, including optical, 0.14 in (3.5 mm), and RCA, can be used at the same time. Up to three compatible devices, such as your game consoles, television, and computer, can be connected. When switching between audio sources, there's no need to disconnect.
Design:
This super amazing speaker is developed to provide the most accurate experience right out of the box. This speaker has been precisely tuned to deliver the artist's vision directly into your living room.
Have a strong audio experience:
Enthused audio is delivered with a peak power of 400 watts and an RMS power of 200 watts. Whether you're listening to music, watching a movie, or playing a video game, this 2.1 system immerses you in clear sound and thundering and powerful bass. Enjoy a strong audio experience and deep bass that you can both hear and feel.
FINAL WORDS FOR Z625:
Fetch this amazing Logitech z625 and easily access power, volume, bass, a headphone jack, and an aux port. This Logitech z625 speaker system with its high range frequencies lets you enjoy the best sound and theater at home.
Logitech Z623 vs Logitech Z625 – Which one is best?
At first glance, Z623 and Z625 appear to be identical. There are, however, some discernible differences if you look closely. First, despite the fact that the design and color are nearly identical, the Logitech Z625 is slightly smaller than the Z623.
As a result, the Z625 is slightly lighter than the Z623. Another difference between the two models is that the Z625 has a matte finish, whereas the Z623 has a glossy finish.
Leaving all of that aside, let's take a look at the more significant differences in terms of features and more:
Optical input:
The main distinction between the two THX Certified Logitech Speaker models is the Optical Input. The Logitech Z623 has analog inputs. The Z625 model, on the other hand, has an optical input. In terms of performance, the Z625 has a slight advantage.
Optical ports open up a plethora of possibilities, the most important of which is that this additional connectivity feature may force you to replace your soundbars. The optical input is frequently overlooked, but it is a gift that allows you to connect seamlessly!
You know what? Optical Connectivity is the super one due to the isolation of audio.
What will this do? It helps increase the precision of the system. Ohh wow! Isn't it amazing?
Warranty::
Is warranty something that really matters?
Obviously YES!!
But the majority of people are unconcerned about warranties and this may influence some people's decisions.
The Logitech Z625 speaker comes with a two-year limited hardware warranty.
The Z623 model, on the other hand, comes with only a one-year limited hardware warranty.
Audio quality:
Both speakers provide a degree of sound quality that is unexpectedly good for their price range. However, when connection and additional power are considered, the Logitech Z625 has a small advantage over the Logitech Z623. If you don't mind the absence of Bluetooth and wireless connectivity, either is an excellent buy.
Connectivity:
The Logitech Z623 includes:
There are two analog inputs (3.5mm aux)
A stereo analog RCA input (no outputs, though)
A headphone jack (3.5mm)
The Logitech Z625 has all of the above plus a digital optical input (S/PDIF), giving it a minor advantage over its smaller sibling.
One minor stipulation: Neither of these systems has Airplay or Bluetooth Connectivity. This might be a deal-breaker in an age where many of us rely on our phones and gadgets for most of our music consumption. Many of which no longer have analog audio outputs.
There is no USB connectivity or remote control, either.
The number of wired inputs:
The Logitech Z623 has two wired input options: 3.5 mm and RCA.
The Logitech Z625 on the other hand includes three input methods: 3.5 mm, RCA, and optical.
Conclusion:
Finally, the distinctions between the Logitech Z623 and Z625 are as follows:
Design: (The Logitech Z625 wins by a narrow margin since it is not entirely made of plastic).
Dimensions and weight: (The Logitech Z623 is more compact).
Connectivity: (Hands down winner: Logitech Z625 owing to the presence of digital optical input (S/PDIF) and the choices that open up as a consequence).
Sound:(Winner: the Logitech Z625, which offers more power).
Cost: (Winner Logitech Z623: It offers more value for a minimum difference due to increased connectivity)
Point to ponder:
Have you ever noticed that Logitech has primarily added the optical input feature to the Z625 speaker system? Still, we can't deny that Logitech Z623 is one of the best speakers, and a little tweaking makes it even better!
Adding an optical input or optical audio port opens up a plethora of new possibilities, and deciding between these two models is a difficult decision.
End the game:
The battle of the z623 vs z625 THX-certified speaker system ends with the fact that the Logitech Z625 speakers clearly have a slight advantage over the Logitech Z623 speakers. You should definitely prioritize your needs. What you have to do is to consider what you want and, depending on that, choose the devices that will be required to connect the speakers.
If you are not on a tight budget, the Logitech Z625 model speakers are an option. If spending a few extra dollars bothers you, and you really don't need any additional input (or could work just fine without it), you can go with the Logitech Z623 speaker system.
Which speaker wins the game?
In order to give you a straightforward answer to this question, I would suggest you go for the Logitech Z625 model speakers among these two speakers as this will provide you with high volume as compared to the Logitech z623 speaker or other speakers.
Remember, when purchasing electronics, Amazon is the one that best meets your needs at the lowest possible cost.