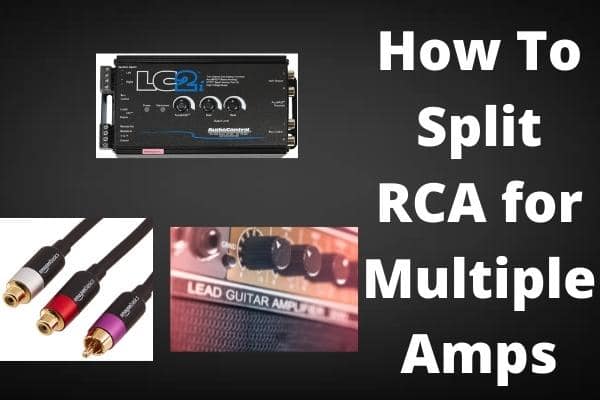 You have installed a new music system in your car or home, and now you want to get the best quality sound from it. So you will start thinking and searching about different procedures that can help you. This is when you know about splitting RCA for getting multiple amps, which will boost the sound quality in return.
The process of splitting RCA for multiple amps can be done through various methods, and every method helps you get high-quality sound from your music system. These methods are not complicated and come up with easy steps to follow. Choose a method and follow the steps one by one, and then you will get good quality of sound in no time.
But before going to talk about the various methods of splitting RCA, let me briefly know about amplifiers and RCA cables which are the prime source of different methods.
What are amplifiers?
The amplifiers are made for producing sound by boosting its amplitude. This device has a purpose that takes the low signal voltage from the source and then converts it into a powerful signal which is enough to turn a pair of speakers.
The amplifiers are used in the sound system to listen to music at your preferred level. Mainly, amplifiers are used when your music system has power issues because amplifiers increase the power level and helps in getting high-quality sound.
What are RCA cables?
The RCA cables serve as a connector that helps users connect two different electrical devices. It is a type of electrical connector utilized to contain video and audio signals. RCA is the abbreviation that means "Radio Corporation of America" because this company gave the idea of RCA cables back in 1930.
These cables carry the video or audio signal from one device to another, such as speakers to TV. The cable has connectors named RCA jack and RCA plugin, which one is female jack, and the other is male plug respectively. Mainly, only two types of RCA cables are available; one is component, and the other is composite.
Methods for splitting RCA for multiple amps:
These methods are straightforward to follow because you can join two or more amps simply by splitting one RCA jack from an RCA cable. These three methods are:
Daisy chain connection
Connect using RCA splitter cables
Line output converter (LOC)
Now we will elaborate on all these methods in detail with the help of steps that you have to follow. First, read all the techniques and then decide which one you find easy for splitting RCA for multiple amps. So let's go!
Daisy Chain connection:
This is one of the most common procedures for splitting RCA for multiple amps. It includes various simple steps. In this method, you need a daisy chain splitter that is readily available. Firstly, make a setup by using the single RCA jack with the electronic device.
Then place the amplifiers which are going to be joined. The amp's input and output units should be empty. Then join the RCA jack with a daisy chain splitter. In the next step, you will join the splitter wire to the input outlet of the first amp.
That wire from the splitter will be connected to the output of the first amp. The splitter has two wires from which the male plug will be connected to the next amp. And in this way, you are done. Now you can easily listen to music with high-quality sound.
Pros
It is used as the best alternative to RCA splitter cable
Available at a reasonable price
It can be used in the absence of an RCA jack
Cons
It gives the risk of electrical failure
You have to carefully work while using this cable
Using the RCA splitter cables:
As discussed earlier, that RCA cable contains three plugs. Two plugs are on one side, and one plug is on another side. The RCA splitter cable is the easiest method because you can easily connect two amps even if your music system has only one RCA jack to plugin.
At first, you have to set up the device with the help of only RCA output. If your music system has plugged in the red and white male plugs, unplug them immediately. In the next step, the RCA splitter cable will be plugged from where you have unplugged the male plugs.
In the end, you will see that now you have two pairs of red and white male plugs from the RCA splitter cable. It will enable you to plug two amps in it by having the single RCA jack in the system. So by following this simple method, you can split RCA for multiple amps.
Pros
You can easily split RCA jacks
Easy method for getting multiple amps
RCA splitter cable is available at an affordable price
Cons
Single RCA jack is for single amp
When split, the power will also split, and sound quality will be disturbed
Line Output Converter (LOC):
This is the least used method because it includes various things you should use. This method is preferred when your music system has no RCA jack to use the above two methods. Line output converter is like a device that optimizes the no of RCA jacks to get multiple amps.
The LOC is an electronic gadget you have to buy from the market. It works as a converter that turns the high voltage signal to RCA level signals which are pre-amplified. After converting the signals, it is used by the amplifiers to boost up the power of the system.
The device contains high voltage resistors and a standard transformer. In order to get the output from LOC, an RCA jack is joined with an amplifier. In this method, you need to install the LOC with the system.
Pros
It is better than RCA splitter cables
It works more efficiently
It increases the no of RCA jacks
It helps you when your system has no built-in RCA jack
Cons
It is an expansive device as compared to the RCA splitter cable
Usage of LOC for splitting RCA jacks:
The line output converter is a device that can be used for various purposes because the only reason is to get multiple amps in the system. So LOC can increase the number of RCA jacks or produce an RCA jack if your system has nothing. So you can say that it will help you in any case with ease.
For your understanding, consider that your system has a built-in RCA jack through which you can easily connect the line output converter. First, connect the LOC with the head unit's output, and then that plug will be served as an RCA jack. So now your system has two RCA jacks that can get multiple amps.
On the other hand, you can increase the no of RCA jacks by using the RCA splitter cable. Split the cables into two parts simultaneously and create another one using the line output converter. So by these simple steps, you have three RCA jacks through which you will get three amps. It will give you high-quality sound as a consequence.
Which methods work out best for getting multiple amps?
After reading the pros and cons of every method, you can decide which method is the best to split RCA for getting multiple amps. Suppose you don't have any budget issues. In that case, it is recommended by the professionals to have a line output converter device because it is beneficial and serves various purposes.
Other methods are suitable in their way, but the line output converter is the best method to choose. First, you need to have a LOC and then install it with your music system, either in your car or at home. By following these elementary and straightforward steps, you can make a line output converter for various purposes for sure.
Conclusion:
When you want to split the RCA for getting multiple amps, the two methods or techniques are used most of the time. These techniques involve line output converter and RCA splitting cables. Both of these methods are best in their way and provide you with a great source of getting high-quality sound for sure.
We have explained three easy methods to use and get multiple amps in this article. But in our recommendation, the best method is a line output converter, although it is expensive compared to the RCA splitting cable. The RCA splitting cable method is an affordable option for most users.
So now it's up to you which technique you feel more easy and safe. After deciding and choosing a single method, you have to follow simple steps, and then you are done.
Frequently Asked Questions
Does RCA splitting cables lessen the quality of sound?
The RCA splitting cable is a good option for those who don't want to spend a lot of money getting multiple amps from their music system. Inside the RCA splitting cable system, the input impedance is almost 50-kilo ohms.
This proves that the current is very low, which cannot affect the sound quality. So if you are using the RCA splitting cable for getting multiple amps from your music system, then go for it without any hesitation for sure.