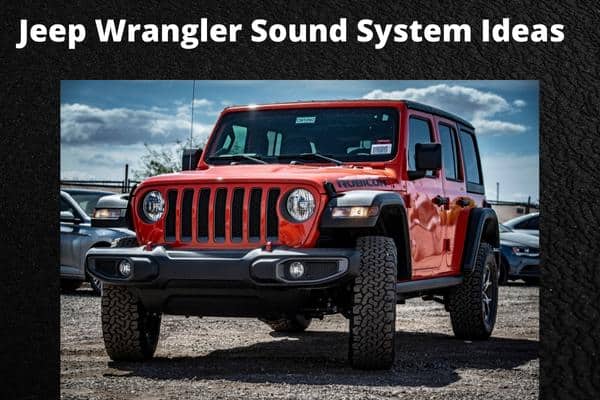 The sound system in the Jeep Wrangler makes better sounds that will keep you entertained for hours. Still, this isn't enough for many users. This article will help you improve your Jeep Wrangler's sound system and learn more about it.
Even though they were made for the military, Jeep Wranglers are very popular. They are neither fashionable nor as simple to operate as a regular automobile. Except for these things, they sell like crazy. Jeep released the fourth-generation Wrangler in 2017. It had better aerodynamics, a bigger cabin, and better gas mileage.
The Jeep Wrangler is known for its off-road capabilities, but it can also be a great platform for building an audio system. There are a few things to consider when planning your system, such as how many speakers you want, what kind of power you need, and where you want to mount your equipment.
Once you've got a plan in mind, you can start shopping for speakers, amplifiers, and other gear. But don't worry, we're here to help. In this article, we'll give you some jeep Wrangler sound system ideas to get you started.
The Jeep Wrangler
The Jeep Wrangler is a popular off-road vehicle that has been in production since 1986. With its four-wheel drive and powerful engine, the Wrangler is capable of tackling even the most challenging terrain. In addition, the Wrangler is equipped with a variety of features that make it both user-friendly and safe. These include the following:
Easy-to-use navigation system
Comfortable seats
Rollover protection system.
Whether you're looking for an adventurous weekend getaway or a reliable daily driver, the Jeep Wrangler is an excellent choice.
Are There Any Speakers In The Jeep Wrangler?
The answer is yes! The Jeep Wrangler comes standard with four speakers, two in the front and two in the rear. These speakers are perfect for playing your favorite tunes as you cruise down the trail.
And if you want even more sound, you can always upgrade to an aftermarket sound system. No matter how you enjoy your music, the Jeep Wrangler has you covered.
What Size Speakers Can Your Add To Your Jeep Wrangler?
Jeep Wranglers are known for their tough, go-anywhere attitude. But just because your Wrangler can handle anything the trail throws at it doesn't mean you have to sacrifice comfort and convenience.
One way to upgrade your Wrangler's sound system is to add larger speakers. Most Wranglers come standard with 5.25-inch speakers, but you can easily upgrade to 6.5-inch or even 8-inch speakers.
The larger the speaker, the more bass and volume it can produce. So if you're looking for a big sound upgrade, don't be afraid to go big on speaker size. Just make sure you have enough space in your Jeep for the larger speakers. 
Ideas To Improve Your Jeep Wrangler Sound System
Jeeps are great for many things: off-roading, towing, and even just hopping around town. But one area where they often fall short is in the sound department. If you're looking to upgrade your Jeep Wrangler sound system, there are a few things to keep in mind:
Consider what kind of music you like to listen to. 
Take into account the acoustics of your Jeep. Because they're designed for off-roading, Jeeps tend to be quite loud on the inside. 
Think about how you want to control your sound system. Many people opt for remote control, so they can adjust the volume without taking their eyes off the road.
Whatever route you decide to go, there are plenty of ways to upgrade your Jeep Wrangler sound system. With a little bit of planning and some research, you can have the perfect sound system for your next road trip.
Upgrade The Front Speakers
If you're looking to upgrade your Jeep Wrangler's sound system, one of the best places to start is with the front speakers. Front speakers are responsible for creating most of the sound in a car stereo system, so upgrading them can have a big impact on overall sound quality.
When choosing new front speakers, it's important to consider factors like power handling, sensitivity, and frequency response. With a little research, you can find a set of front speakers that will greatly improve the sound quality of your Jeep Wrangler's stereo system.
Install A Subwoofer
Make the sound in your Jeep Wrangler better by installing a subwoofer. Subwoofers are designed to reproduce the low frequencies of audio that are typically below the range of human hearing.
By adding a subwoofer to your system, you can improve the overall sound quality and get more enjoyment out of your music. When shopping for a subwoofer, pay attention to the size, power handling, and frequency response. These factors will determine how well the subwoofer performs and how it fits into your Jeep Wrangler.
With so many options on the market, it's easy to find a subwoofer that meets your needs and budget. Improve the sound in your Jeep Wrangler today by adding a subwoofer.
Upgrade Soundbar
Just behind the first row of seats, the soundbar will be fastened to the ceiling of the speakers. If the speaker in your Jeep isn't very good, you can upgrade to a soundbar to make the surround sound system better.
Both the speakers and the soundbar should be changed. This will cost about $300 to $400.
Add Extra Speakers
If the last upgrade wasn't enough for you (which is unlikely), you can add more speakers to improve the sound quality. But it will take up less room in your storage area and make it look like you are moving with a radio.
Make Your Jeep Wrangler Soundproof
Improve the way your Jeep Wrangler sounds by soundproofing it. This will help to reduce road noise and give you a better listening experience when you're on the go. There are many ways to soundproof your Jeep, but one of the most effective is to use insulation.
This can be applied to the floor, doors, and ceiling of your vehicle to create a barrier between you and the noise outside. Another way to reduce noise is to replace your tires. Choose tires that are designed for low noise levels and you'll notice a difference in the way your Jeep sounds both inside and out.
With a little effort, you can enjoy a quieter ride in your Wrangler that's free from road noise.
Add An Amplifier
If you're looking to improve the sound quality of your Jeep Wrangler, one of the best things you can do is add an amplifier. An amplifier will increase the power of your sound system, making it louder and clearer.
It can also help to improve the overall quality of the sound, making it more nuanced and detailed. There are a few things to keep in mind when choosing an amplifier, but once you have the right one, it will make a big difference in your listening experience.
Whether you're looking to rock out on the trails or simply want to enjoy better sound quality on your daily commute, adding an amplifier is a great way to improve your Jeep Wrangler's sound system.
Conclusion
In conclusion, the Jeep Wrangler is a great vehicle for anyone looking for an off-road adventure. This vehicle is equipped with many features that make it ideal for off-roading, including a powerful engine, four-wheel drive, and a strong suspension.
In addition, the Jeep Wrangler includes a sound system that is perfect for blasting your favorite tunes while you are on the go. There are many different sound system options available for the Jeep Wrangler, and each has its own set of benefits. If you are looking for a sound system that is durable and can withstand the elements, then you may want to consider an aftermarket system.
However, if you are looking for a sound system that delivers superior sound quality, then you may want to consider an OEM system. Regardless of which sound system you choose, you can be sure that it will help to enhance your off-roading experience.
Frequently Asked Questions
How Can I Make My Jeep Wrangler Speakers Sound Better?
If you want to make the sound system in your Jeep Wrangler better, you should probably begin by installing a subwoofer. By adding a bass speaker, enclosure, and amplifier, the smaller speakers are no longer needed to make bass.
What Is The Best Sound System For A Jeep Wrangler?
Mopar speakers are the best ones you can get for the soundbar in a Jeep Wrangler. After testing the two speakers, our experts were impressed by their 150W of power and high-quality build.
How Can I Make My Jeep Speakers Louder?
In general, you can connect multiple speakers in the same room to make more sound. But putting the speaker in or close to a corner will also make the sound louder. This could make the volume go up by 40%.

Also, if you want louder and better sound, you will need an external amplifier that is easy to add to a system that is already set up. Installing an aftermarket amp into your car's audio system will surely make it sound better.
How Do I Get More Bass In My Jeep Wrangler?
When you press the rotary control knob for TUNE/SCROLL, BASS is shown. You just have to turn the SCROLL/TUNE knob. When you press the TUNE/SCROLL knob a second time, MID will show up.